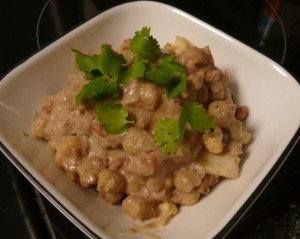 There's a silver lining to everything, and for me, the bright side of winter is soups and stews. And this soup has it all–creamy, warming, spicy, filling, satisfying and yummilicious! At our annual pumpkin carving party, all food has strict criteria. All dishes must be: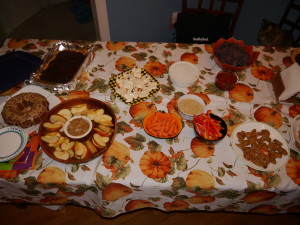 gluten-free
completely delicious
something that keeps well over time
 allergy/food restriction friendly
Easy if possible
I mean, when I'm cooking for 40 and making 12-15 dishes, easy counts for a lot.
So we went for a vegan stew this time around, and I absolutely loved it. I made this stew in the crockpot, but it could be totally made on the stovetop, too, just with a little extra broth or water.
2 TBSP coconut oil
1 big onion, diced
3 garlic cloves, minced
1 Serrano pepper, diced
2 TBSP ginger, minced (approx 1.5 inches of ginger root)
2 cans of garbanzo beans (I always buy Eden, which is tested for gluten and BPA free)
1 can tomatoes with onions, including the juices OR 2 cups tomatoes when the season allows
1 can lite coconut milk (I assume the regular works–it doesn't work with my tummy)
2 TBSP coconut flour
1.5 TBSP garam masala powder or curry powder (curry powder is a little hotter)
1/2 cup cilantro
rice if desired
Sautee the onion, garlic and ginger in the coconut oil over medium high heat until browning, 6-8 min. Add to the crockpot, along with the other ingredients through garam masala. Cover, cook on low for 4-6 hours. Garnish with cilantro, serve over rice.
I may add in a diced potato or sweet potato next time around. Mmmm…