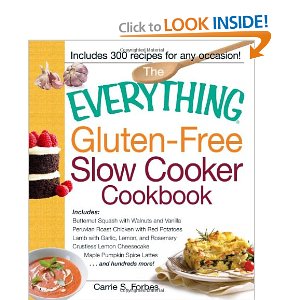 I'm hoping by now you've gotten word of the new Everything Gluten Free Slow Cooker cookbook by Carrie Forbes (AKA Ginger Lemon Girl). You know you want one…
First, I must say, Carrie is fantastic. I've made so many of her recipes over the years, and her chocolate chip cookies are an absolute favorite and necessity at our parties. I've also made her cornbread, which E loved, and used her Master Mix.
So I had no doubt that Carrie's book would be marvelous as well. And of course it is.
It has everything from baked goods, to 5 ingredient wonders to drinks! Did you know that you can make baked goods in a crock pot?  And GLUTEN FREE baked goods?  Yep, really. I didn't know either. I'm also super honored that Carrie crockpot-ified a millet recipe that I've been making for ages…check it out!
I decided to make the applesauce, or, really, life decided for me. I adore applesauce, and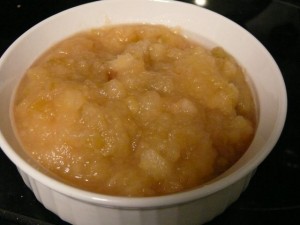 I've made applesauce on the stovetop for years. It's one of my favorite things this time of year. Mr. Dude and I were at the Farmers' market and I spied Empress apples. Now, I figure that since my cat, Genghis, is the Emperor, I must be an Imperial mama, if not an empress. So I asked, and she said they weren't really eating apples, but that they made the best applesauce ever. I'm an apple connoisseur and so I was intrigued.
She did not lie.
Problem was, we gobbled it down so quickly there was no photographic evidence! So I was clearly compelled to make another batch of applesauce. It is so much easier in the crockpot.
And, Carrie's Moroccan chicken is on the menu for next week. I can't wait!
So, I am giving away 2 copies of this book. One is signed by the lovely Ms. Forbes herself. One isn't. (sorry! If you want I can scribble in Carrie's name, and we can pretend, but it's just not the same, ya know?  😉 ) These books are a gift from me, not the publisher.
Each of the below is one entry:
Leave a comment of why Carrie is simply awesome. Feel free to do this even if you don't want to enter.
Follow Carrie on Facebook and leave me a comment letting me know.
Follow Carrie on Twitter https://twitter.com/GingerLemonGirl and leave me a comment letting me know
Follow me on Twitter https://twitter.com/CherylharrisRD and leave me a comment letting me know
This contest will close Sunday, Oct 21st at 8pm EST. Contest is open to the US 48. Sorry Canadian peeps.
And go BUY the cookbook! At less than $10, this is a heck of a bargain.