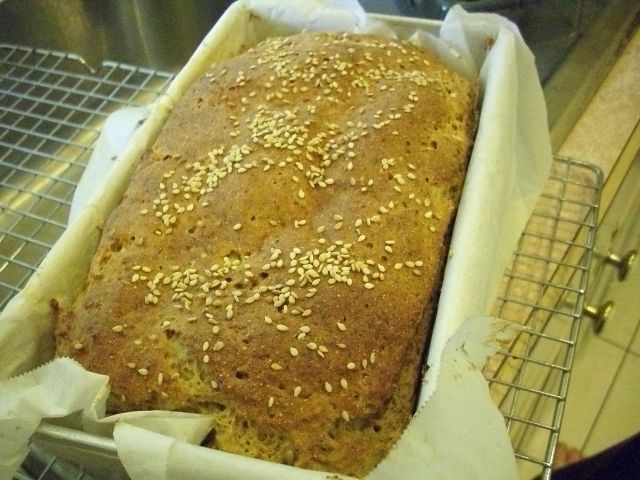 This bread was initially dubbed "Wonder Bread" by a co-worker because she was astonished that it actually tastes like bread, but now there's a double meaning–I wonder what's taken me so long to post it!  It is more work intensive, but it's delicious, very high fiber, much higher in protein than most and filling.  The bread picture on the header of my blog  is also of this bread.
This bread was for Linda, who was limited in the grains she could eat (only corn) and wanted something without all of the simple carbs.  Obviously, the nuts, bean flour, quinoa and flax give it a nutritional punch.  I generally don't use corn, but I've tried subbing for sorghum or teff for the corn, but just haven't been pleased with the results.  So corn it is.
I have made this for numerous classes.  One time, I had a loaf of bread with 2 containers of homemade jam, and realized after the class that no one had even opened the jam!  The bread is truly perfect as is.
Linda's bread
1/2 cup warm water
1 Tablespoon agave nectar /honey
1 1/2 Tablespoon of yeast
2.5 oz brazil nuts or hazelnuts (about 1/2 cup of whole nuts or 3/4 cup ground)
1/2 cup quinoa flakes
1 cup corn flour
1/2 cup ground flax seed
1/2 cup cornstarch
½ cup amaranth or navy bean flour
2.5 teaspoons xanthan gum
2 eggs
1 Tablespoon oil
1 Tablespoon agave / honey
1 cup apple juice
1 Tablespoon sesame seeds
pinch of salt
1 tsp sesame for sprinkling on top
Put lukewarm water in a 2 cup glass measuring cup with agave and yeast.  Set aside 15-20 min
Pulse brazil nuts in a food processor until they are starting to clump together (about 2 minutes) but are not nut butter.  Scrape down the sides, add quinoa and grind a minute more.  Add the rest of the ingredients one at a time, each time running the food processor for a minute, until the quinoa flakes are mostly ground down.  Put flour in a stand mixer.
Add in eggs, oil, agave and 1/2 cup of apple juice.  Mix on low, slowly adding in remaining apple juice and the yeast mixture.  Beat batter on high for 5 minutes, add in sesame seeds.  Line a 9X5 pan with parchment and mist sides with oil.  Pour in the batter (this batter will not look like any normal bread batter.  no worries, I promise).  Put in a warm place for 35-30 min until it rises just to the top of the loaf pan.  Sprinkle on seeds.
Preheat oven to 350.  Bake for 15-20 minutes, then cover with foil once browning and rotate the loaf for even browning if you have a temperamental oven like mine.  Keep baking for another 25-30 minutes or until a tester comes out clean.
Remove to a cooling rack.  Allow to sit 15 min, then remove the bread (with the parchment) and lay it on its side until cool enough to handle.
This bread keeps well and freezes well.  Will wonders never cease?