All of the weight loss resolutions I'm seeing are starting to grate on me.
Did you know that I lost about ¼ of my weight and have kept it off the last 9 years? Probably not. I don't mention the weight loss because it's not particularly significant in my life. I was somewhat overweight according to the charts, and now I'm not. In some ways, it's been one of the most trivial changes, which is why I don't think it's ever come up on my blog after almost 6 years of blogging.
You can read that again if you'd like. I lost a big chunk of poundage and have kept it off almost a decade and it's pretty irrelevant to me.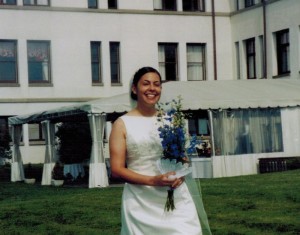 Why?
I was pretty awesome at my highest weight. And gorgeous inside and out. Do you think I would have looked happier at my wedding if I weighed less or my arms were more toned? I don't think so.
What I am proud of and care about:
Dramatically changing and improving my eating habits. Yes, I've gone from the woman who ate frosting by the spoonful on many occasions to the woman who can't get enough kale.
Ending a long-standing binge eating habit.
Learning to love and cook amazing food.
Getting physically active, even despite physical limitations
Meditating daily!
Taking great care of myself, and learning to love the person I am.
Maintaining loving relationships.
Finding much better emotional balance
Starting a business and watching it flourish
My love and my kittehs.
Managing all of my health conditions.
Those accomplishments are a result of a change in habits and attitude, not a rigid plan.
I am so much healthier than I was, in almost every way. When I changed my life, my everything else changed. And if my weight had NOT changed when I changed my life, it still would have been worth it.
Please understand…my intent isn't to diminish others in their goals for health, including weight loss. But you can hate yourself thin; you can't hate yourself healthy. Same goes for bullying, and often that seems the cornerstone of many diets–beating yourself into submission. Thanks, but no.
So before you plan those New Year's resolutions, consider what you care most about. The number on the scale doesn't define your health. You can aim higher than just seeing the scale move.
I'm also really loving Johnna's post on dieting–check it out.