Sometimes I get excited with the possibility of new goals for a new year. And it also can be a measuring tape for comparison and expectations. Sometime my inner critic runs amok with…well, everything I haven't done, and my frustrations with myself bubble up.
The idea of resolutions is one of controlling destiny. If you work hard enough, you get what you care about. And that's powerful stuff, but also leaves the opportunity for a lot of blame.
It's not my fault that my body hurts sometimes or I haven't been able to have a baby or that I struggle driving and walking up stairs. It isn't because of something I've done, or failed to do, or a sign that I need to work harder. I'm not being punished for something I did wrong or someone I failed to forgive. It's not because I haven't tried another special program or diet or new doctor. And yet there's this lingering sense that I were smarter, stronger, more dedicated, more loving, more giving, it would go away and I'd get what I want. There's the sense that the crap I don't want is some sort of sign of deficiency to fix or cover up.
There is such a fine line between accepting personal responsibility for my actions, my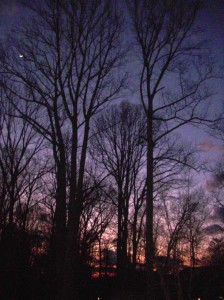 attitude and my outlook, without becoming the sole judge, jury and jailer—the one who has learned to only accept perfection, and the one whose heart turns to stone with the idea that I have failed because my body (or my heart) is under performing in some way or that I haven't met my own standards.
It's not my fault. Nor is it someone else's. There's no blame to assign. It's just one of those things that falls into the category of "reality at this point in time"
And compassion is the only part that can ease the suffering that I feel that I haven't yet figured out how to wave the magic wand. I can't mend some relationships in my life, and I sometimes struggle with my body, my emotions, my fear and insecurity. Compassion is the only part that can make it okay that I'm not as strong, as confident, as wise, as caring as I want to be.
Because it is okay. Really.
I'm perfectionist by nature (nurture?), and that remains after many years of softening around the edges. I guess that's not my fault, either. We learn habits, and keep them around long after they've hit their shelf-life of usefulness.
We're meant to be flawed, beautiful, petty and jealous, proud and insecure, breakable and heal-able, too. We're allowed to fall apart and can choose to find the grace to put ourselves back together.
And might I dare to suggest that there are things in your life that you blame, resent and disown, too? Things that are all your "fault", or someone else's? Whether weight or illness or money or "bad habits" that we do our best to shove under the bed so no one can see them. We like to find fault—in ourselves, in others, because if we're to blame, we can control it and fix it. But you can't hate your way to wellness. And it's impossible to learn to forgive yourself or someone else while still holding a grudge. I promise. Goodness knows I've tried over the  years.
I love this quote from Carl Rodgers: "The curious paradox is that when I accept myself just as I am, then I can change. "
Compassion. I like the idea of finding the beauty in imperfection, and loving what is. I think that's my main theme for 2013, and I hope you consider trying it on, too.